Best Computer Hacking Forensic Investigator (chfi) Training in Delhi
Overview:- Computer Hacking Forensic Investigator (chfi)
Computer Hacking Forensic Investigator (CHFI) Training certified by EC-council gives a broad understanding of detecting cyber-crimes, forensic science, and stepwise investigation process for extracting the evidence and to support the search and seize warrants cases.
This certification validates one's knowledge in Computer Hacking Forensic Investigator chfi for the purpose of reporting hacking attempts in a court of law. This is one of the most popular and highly renowned certifications which will allow students to learn techniques to track intruder's activities and run required investigations for the same. It comprises many types of computer forensics programs that facilitate to conduct of smooth investigations.
CHFI course encompasses analysis tools and techniques related to a wide range of cyber-crimes rather than simply limiting to mishandling of confidential data, violation of intellectual property rights, trade secrets stealing, and other types of online fraud.
This course will equip you with outstanding skills in the areas pertaining to data recovery of lost, damaged, deleted, or encrypted data.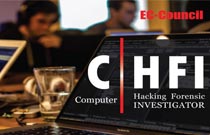 HIGHLIGHTING FEATURES  
This course will cover everything from start to end including:
First respondent roles
How to conduct Preliminary interviews
How to safe keep the electronic evidence with complete documentation
Evaluation of electronic devices in a crime scene
Conducting audits periodically to prevent future attacks
WHY SHOULD STUDENTS JOIN?
 This course will be useful for aspiring professionals in Computer forensics. This training will start from foundational sections and then move to advanced tools and techniques. The course follows a methodological approach:
Defining digital evidence and its types
Rules of procuring and safekeeping of evidence
The examination process of evidence
Analysis of Evidence
How to set up a Computer forensics laboratory
How to retrieve data whether it is existing or deleted
Different processes for different devices
Investigating traffic on computer networks
Various popular techniques like Access Data FTK, Encase, Stenography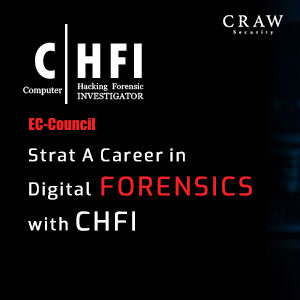 CHFI certified professionals will be able to lead successful operations of the Computer Hacking Forensic Investigator chfi domain with respect to an information breach.
 CAREER PROSPECTS
After completion of the course, one can join the following professions:
IT Security professionals
Computer forensics professionals
Officials in Digital Forensics Department
Cyber-crime investigator
PASSING DETAILS
EC-Council Exams contain multiple forms. Each form gets analyzed carefully going through Beta testing by a committee having expertise in the subject. This ensures that the students are not only academically strong but also hold practical knowledge. To ensure each form has equal assessment standards, cut-off scores are set on a "per exam form" basis. Mainly, the cut-offs range from 60% to 85%.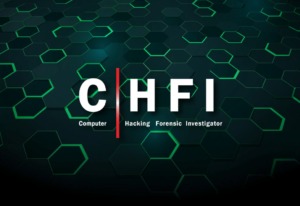 ANYTHING NEW PROVIDED BY CRAW?
CRAW not only provides you with the training and knowledge but there are certain benefits that you will get only with CRAW like:
E-books by EC-council will be provided if students enroll for Training and Certification both.
Authentic and new hacking tools for students registering for CEH Course.
Benefits of video lectures
Study material
Average Computer Hacking Forensic Investigator chfi Salary in 2021
What amount do Computer Hacking Forensic Investigator (chfi) workers make? Employees who know CHFI earn an average of ₹12 lakhs Per year, generally going from ₹15lakhs each year to ₹30lakhs each year dependent on profiles. The top 20% of workers acquire more than ₹25lakhs each year.
Jobs Opportunities in Computer Hacking Forensic Investigator (CHFI) Course in India
Ethical Hacker. ₹500,000.
Certified Ethical Hacker (CEH) ₹700,000.
Cyber Security Analyst. ₹650,000.
Information Technology (IT) Consultant. ₹690,000
Senior Security Consultant. ₹800,000.
Security Analyst. ₹600,000.
Information Security Analyst. ₹10,00,000.